NationWide Delivery
CALL OR TEXT ANYTIME 740-809-8050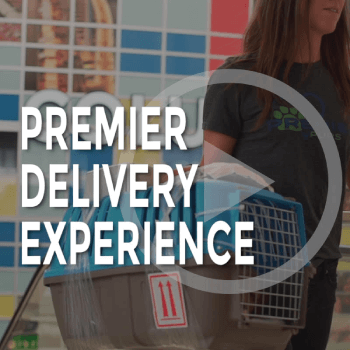 Delivery - Picking Up Your Puppy
If you're outside of our area, our knowledgeable staff will make sure that you have everything you need to smoothly pickup & transition your pup after flight or ground delivery.
-Watch video above-
---
Please contact our Puppy Travel Agents with any delivery related questions
Delivery options & Flight requests
Here's the delivery options, and what type of flight requests we accept with each option.
Contact our Puppy Travel Agents if you would like to upgrade delivery options or make a special request.
Delivering Your Puppy
How to track your puppy's flight
Your puppy's flight information will be in an email from us with subject "Puppy's Flight Info & Care Guide".
Below you will find links to track your puppy's flight and to look up your cargo facility's location.
Make sure you track your puppy's flight prior to leaving the airport in case of a delay / change.
Typically your puppy will be ready for pick up about 30-45 minutes after their arrival time.
If tracking # begins with
006-xxxxxxxx
your puppy is flying via

If tracking # begins with
001-xxxxxxxx
your puppy is flying via

If tracking # begins with
016-xxxxxxxx
your puppy is flying via

***From May 1st/ Sept 31st there will be cities that the only delivery option you may chose is VIP as these airports are restricted due to temperatures. The airports include but are not limited to LAS, PHX, TUS, ELP, PSP. If you live in a city that stays above 85 degrees past 10 PM please consult our team to ensure you select the correct delivery method.***
Not every airport has cargo and may require you to pick up your puppy at the baggage terminal or a specific location other than cargo. If there is ever a question regarding pick up location please call your airlines cargo customer service number and they can give your specific details on your pick up location.
Pick up location can vary based on time as well; if your puppy is arriving late it is always a good idea to call cargo customer service and verify pick up location. For American Airlines if you see both cargo and priority parcel service as options; go to Priority Parcel Service address.

About your puppy's flight
Your puppy will be flown in an Airline-Approved Pet Carrier (with food & water) and always in a temperature controlled pressurized cabin on the plane. We recommend getting the optional Comfy travel Package (includes a soft bed and toy) to ensure your puppy's flight is first class-comfort!
Once we receive notification that you have completed the adoption process, we will coordinate the best time and date to fly your puppy to your nearest major airport. You will receive an email with your puppy's flight details and our Puppy Care Guide. You will pick up your puppy at the cargo service area of your puppy's destination airport.
With industry-leading services, the airlines we use provides safe transport of your puppy. Their programs address the special needs of your puppy by providing a comfortable traveling experience for your puppy through temperature-controlled vans and holding areas to prevent exposure to extreme heat or cold temperatures, unparalleled customer service from a dedicated team of professionals who help ensure a seamless journey for your pups, and specially trained ground handles for personalized care on the go.