Mini Labradoodle Breed Information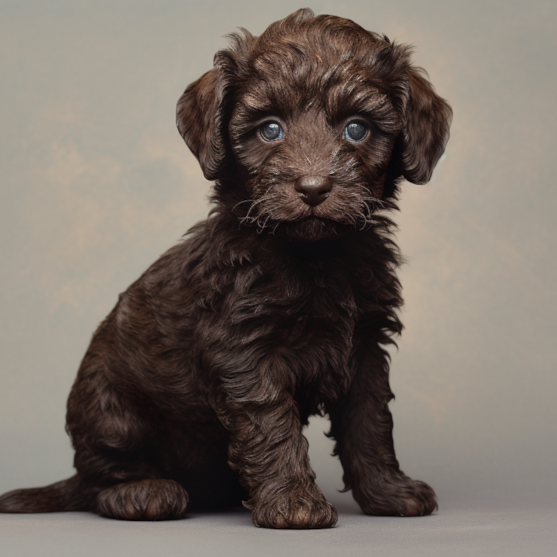 Mini Labradoodle puppies are a wonderful mixed breed of a purebred Labrador retriever and a purebred Miniature Poodle. Like their amazing parent breeds, Mini Labradoodle puppies come with an everlasting fun-oriented disposition. They are energetic, adventurous, and fond of everyone around them. Children and Mini Labradoodles make wonderful friends, as do Mini Labradoodles with their owners and everyone else they meet. These doodle puppies have low shedding coats with good Mini Labradoodle hypoallergenic qualities. 
BREED TYPE / MIX Doodle Hybrid / Poodle crossed with a Labador Retriever ENERGY Moderate SHEDDING Minimum TRAINING Responsive TEMPERAMENT Loyal, Obedient, Playful, Charming ADULT WEIGHT 16-25 lbs ADULT HEIGHT 14-17 in LIFE SPAN 12-15 yrs
Characteristics
With a friendly, gentle, and intelligent nature, the Mini Labradoodle puppies are a great family pet 
The Mini Labradoodle lifespan is somewhere between 12 to 15 years, but they can live longer depending on the care they get during their life 
The coat of the Mini Labradoodle is very different from its parent breeds, the Labrador and the Mini Poodle 
The Mini Labradoodle puppy  will do anything for their family as long as it brings them closer to their loved ones 
The Mini Labradoodle breed is a playful, fun-loving dog that loves to be around people 
With a low shedding coat, the Mini Labradoodles are considered to be hypoallergenic dogs, they are great for anyone who suffers from allergies or asthma  
The Mini Labradoodles are highly adaptable and easy to train, they are also eager to please and can be easily socialized 
They will weigh between 16 to 25 pounds and have an average height between 14 to 17 inches for a full grown Mini Labradoodle adult 
Mini Labradoodle Grooming needs are medium because of their low shedding coat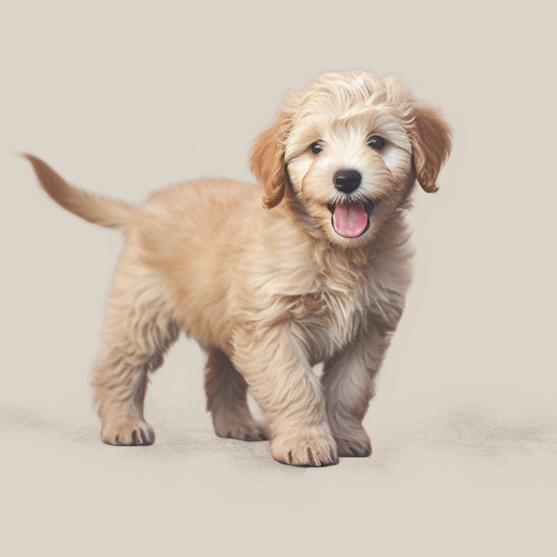 Appearance
The Mini Labradoodle has a compact, well-proportioned body, expressive eyes (eyes and nose color may vary based on coat color), endearing floppy ears, and a gorgeous hypoallergenic, low shedding coat. The petite Mini Labradoodle coat can vary in texture from straight to wavy or curly, in length from short to long, and it can come in a variety of colors such as white, black, brown, chocolate, cream, golden, silver, gray, red, apricot or tan.
The most popular Mini Labradoodle colors are chocolate, black, black and cream. Though it is gorgeous either way, the Mini Labradoodle coat can vary quite a bit in texture and length depending on which side of the family the Mini Labradoodle puppy takes after;  the Labrador parent breed or the Mini Poodle breed. 
There are three generations of Mini Labradoodles, which are each slightly different in size. The average size of a full grown Mini Labradoodle adult can vary between 10 and 30 pounds. 
The first generation Mini Labradoodle is called an F1. They weigh between 16 and 25 pounds and stand from 14 to 17 inches tall. 
The second generation is called an F1B Mini Labradoodle. They weigh between 13 and 20 pounds and stand from 12 to 15 inches tall. 
The third generation is called an F2 Mini Labradoodle. They weigh between 10 and 15 pounds and stand from 12 to 13 inches tall. 
Mini Labradoodles are known for their loving nature and keen intelligence, making them a perfect addition to your family. 
Temperament
Mini Labradoodle puppies are bright, happy, and full of energy little fluffballs. They have great curiosity and are fast learners. Mini Labradoodles are loving and friendly, and they greet every stranger with a tail wiggle and a kiss. This dog is not known to be aggressive or snappy by nature. The only time they might exhibit this type of behavior would be in reaction to another dog being aggressive with them or if they felt threatened in some way. The cute Mini Labradoodle has a sweet temperament but can become stressed if left alone for too long or if there is no consistency in their daily routine. 
Mini Labradoodle puppies are curious, playful, outgoing, and friendly animals that truly enjoy the companionship of their humans. They get on well with children (they aren't afraid of being jumped on or handled roughly by kids) and the Mini Labradoodle adult or even Mini Labradoodle puppy gets along fine with other dogs provided they have been properly socialized early in life.  
The Mini Labradoodle is an extremely intelligent dog that has the ability to learn new things very quickly but also becomes bored easily if training isn't challenging enough. 
Care
Mini Labradoodle Grooming
The Mini Labradoodle is a cross-breed dog with a fluffy, curly coat. It is often confused with the Labradoodle (its standard size cousin). The Mini Labradoodle requires grooming every six to eight weeks or more often if they are bathed or live in an area that has high humidity. The Mini Labradoodle grooming requirements are medium. 
One of the main perks of owning a Labradoodle Mini (aside from their excellent temperament and adorable nature) is their coat, which is usually fleece, wool, or a combination and doesn't shed. However, this does mean that your petite Mini Labradoodle needs regular haircuts to keep the coat neatly trimmed and free from tangles and knots. This is also very important for the dog, as his coat can get very heavy, warm and the ruffled coat makes him very uncomfortable. 
We encourage brushing your dog preferably 2-3 times each week however in case you don't have time for that, even as soon as each week will help preserve your dog's coat. 
Mini Labradoodle Exercise Needs
The Mini Labradoodle is a mixed breed that has both Retriever and Poodle blood. Sharing energetic tendencies with their parents, these active dogs enjoy walks and runs, as well as swims like their Poodle side. Labradoodle Mini also has an instinct to retrieve and play, which is why they are perfect for someone with a lot of time on their hands.  
To exercise your Mini Labradoodle's mental skills, you can provide them with some interactive dog toys or puzzles. You can also take them on different walks in order to expose them to new smells and sights. 
Mini Labradoodle puppies and full grown Mini Labradoodles both need rest throughout the day to recover their bodies, but they require vastly different levels of exercise. Mini Labradoodle puppies are curious, energetic, and love to play. They are still growing, so they need to limit their physical activity in order to prevent damage. Older dogs are often more sedentary but still need a daily walk.  
Mini Labradoodle Health
Do Mini Labradoodles have health problems? Mini Labradoodles are generally a healthy breed, but there are a few health issues to be aware of. Some Mini Labradoodles may have allergies or skin infections because they have a double coat of fur and their skin is sensitive.  
Mini Labradoodles are prone to eye problems such as progressive retinal atrophy (PRA), cataracts, and distichiasis. They may also develop hip dysplasia or arthritis due to their long back legs and deep chest.  
Mini Labradoodle Lifespan
Mix-breed dogs, which are more common than purebreds, tend to live longer than those of purebred lineage. A Miniature Poodle, for example, has a lifespan from 10 to 18 years, whereas a Labrador Retriever can live from 10 to 12 years. A Mini Labradoodle will fall into this range. 
With a lifespan of 12 to 15 years, Mini Labradoodles are hearty and healthy dogs. Luckily hybrid vigor allows some resistance to diseases that affect both parent breeds. 
Mini Labradoodle Training
Raising a Mini Labradoodle is like raising a child. If you put in the time and effort from early on, then you will create a well-mannered Mini Labradoodle adult who will be a joy to spend time with for years to come. Labradoodle Minis are intelligent, friendly, playful, but they are also very willful if they feel that they are not getting the attention that they deserve. 
Training a Mini Labradoodle should always be about rewards, not punishment. It shouldn't be a fight of wills. Mini Labradoodles are sensitive creatures and you need to find training methods that work well for both of you. Avoid physical punishment and emotional outbursts and focus instead on positive reinforcement. 
Mini Labradoodles are intelligent and highly trainable dogs. They are bred to have calm temperaments and a desire to connect with their human owners. Most Mini Labradoodle puppies are very easy to train and will thrive on the chance to exercise their "grey matter" with interactive activities. Some Labradoodle Minis are professionally trained as guides or therapy dogs. 
Mini Labradoodles are pack animals, as are most dogs. They want to know and be comfortable with their place in the hierarchy. They also need to know who is the pack leader. A dog cannot be forced into this position; it has to be something that is mutually accepted by the dog and established through proper training. If a puppy is not made aware of his place in a household and the rules that he needs to follow, then he will end up dominating the humans in the family. 
Labradoodle Minis are sociable creatures and they need to be with you and involved in the family. Positive reinforcement is good when training them, but ignoring them is better if they are misbehaving. If you pay attention to their every need, then they will think they are in charge and become more demanding.  
History
The Mini Labradoodle is a cross between a Miniature Poodle and a Labrador Retriever that was first bred in 1988 by an Australian breeder. It was originally designed for companionship and its hypoallergenic coat but has become the "it" dog of the United States. The high versatility of its trainable and adoring temperament makes it a perfect addition to any family, making it a great choice for anyone. 
Labradoodles come in three generations: the F1 Mini Labradoodle (first generation), the F1b Mini Labradoodle (the first generation backcrossed with a Mini Poodle), and the F2 Mini Labradoodle Puppies (second generation). 
F1 = 50% Labrador & 50% Poodle: The first generation of this crossbreed is a Lab to Poodle mix. This variety is healthier than the original, but it sheds moderately. It is not as great for owners with severe allergies because it still sheds hair. 
F1B = 25% Lab Retriever & 75% Poodle: Owners like them in particular due to their non-shedding and allergy-friendly features. They have the best coat because it's the most manageable. 
The F2 cross (F1 Labradoodle & F1 Labradoodle) is similar to the F1 combination. F2 puppies are usually bred for specific physical traits like a certain color or size. 
The Mini Labradoodle is an extremely adorable dog that will make you swoon whenever it looks at you with its beautiful eyes! Although the cute Mini Labradoodle is not a purebred dog, it is still recognized by many dog clubs and organizations such as the American Canine Hybrid Club (ACHC), Designer Breed Registry (DBR), Designer Dogs Kennel Club (DDKC), Dog Registry of America, Inc. (DRA) and International Designer Canine Registry® (IDCR).